by Marisa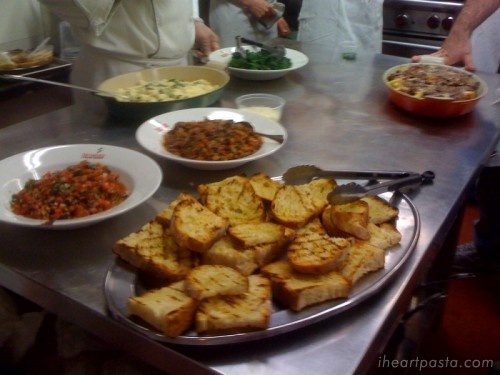 The Institute of Culinary Education on 23rd Street in NYC offers this recreational course a few times each semester. Two years back I had taken Techniques of Fine Cooking about the classic French way of doing things and enjoyed it. I decided to check out this class that was tailored to my favorite cuisine. For four and a half hours a day/ five days straight you learn how to prepare authentic Italian menus.
We worked on antipasto, salad, vegetable, pizza, risotto, meat, dessert and of course pasta was on the forefront of the menu! Most of the recipes I was already familiar with in my own kitchen but I definitely was able to take away some new ideas and add to my rolodex of staple recipes. For instance, how does Ragu Napolitano sound? A sauce filled with Italian sausage, beef rump simmering in red wine, plum tomatoes, olive oil and a bouquet of herbs. Or Pasta 'ncaciata? A Sicilian eggplant and cheese Timbale, Italian for "drum". There were also delicious lamb, pork and chicken dishes and enough desserts to give you a sugar rush. But what I found most interesting and useful were the days we made fresh pasta and gnocchi-three ways! My favorite was the Gnocchi Di Ricotta Con Sugo De Funghi – they are made from ricotta cheese and a lovely, creamy sauce that is a heavenly mixture of exotic mushrooms. Admittedly, I work and grew up with mostly dry pasta (as most Southern Italians do) so this was a real treat for me. Easier and quicker than expected, this will definitely be a new practice in my kitchen as soon as I get that Kitchen aid pasta attachment. Presents are welcome.
Although more recipe intensive than technique driven, I found this course helpful and fun. One suggestion, although not as profitable for the school, would be to decrease the size of the class so each student can get hands-on experience with all recipes. Overall, a no lose course – knowledgeable Chef instructors (Hello, Loren Banco!), quality ingredients, a free, fresh and filling lunch with unlimited wine and leftovers to take home…can't beat that! Below are some photos to entice you further.