by Marisa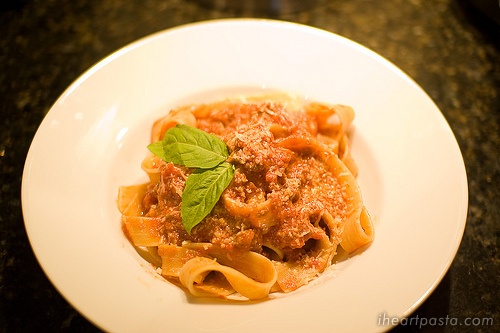 One of my absolute favorite pasta dishes growing up and to this day is the ever so classic, rich, rustic and hearty- pasta bolognese. This is of course my mother's recipe and really can a dish of pasta look any more sexy?!? I like to use pappardelle pasta because the curvy ribbons help the meaty sauce stick to it. Her version has a touch of cream which gives it that pale red color and creamy texture. Hell, forget dish of the week, this is the dish to last a life time…a true winner!
Preparation time: 1 hour and 30 minutes Number of Servings:  8
INGREDIENTS
Olive oil – enough to coat bottom of saucepan
2 cloves of garlic
¼ of small onion – chopped
1 lb. of mixed ground beef
2 large cans of crushed tomatoes
Basil and/or parsley
Salt & Pepper to taste
¼ – 1/3 cup cream (regular, light or fat free)
INSTRUCTIONS
1. In saucepan heat olive oil (small amount), garlic, and chopped onion until  garlic and onion is slightly browned.
2. Add ground meat and brown – if there is lots of liquid (fat from meat) drain  off as much as possible (to eliminate fatty taste).
3. Add a little bit more olive oil – let it come to a sizzle.
4. Add basil and parsley to meat followed by canned tomatoes.
5. Add salt & pepper and bring to a small boil. Stir the sauce and turn heat  down to a simmer.
6. Cook for about 11/2 hours or to taste – stirring often during cooking.
7. In the last 5 minutes add cream and stir. Also check for salt (addition of  cream will need some salt added to sauce)
8.  Add more basil & parsley just before end of cooking for added flavor.
9. Sauce should be pinkish and creamy in texture.
Notes:
1. Amount of meat and cream can be increased or decreased to your liking.
2. If tomatoes are too thin – tomato paste can be added.