Pasta dish of the week: Orecchiette with broccoli rabe and sausage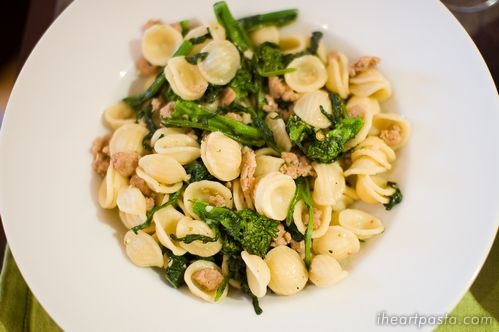 Orecchiette or 'little ears' in Italian is a fun shape to work with. My favorite thing to marry it with is ground Italian sweet sausage and broccoli rabe. Super simple but still a hearty and satisfying dish. It finally becoming summertime, I like to try to keep things lighter sometimes so in this version I used Italian style turkey sausage which I find a close healthy alternative to the real thing. With the use of crushed red pepper flakes to give it some kick, giving a more mild heat vs just using Italian hot sausage which can become overpowering.  The bitter green of the broccoli I could eat with anything, hands down my favorite veg! Top it off with a sprinkle of some cheesy, salty parm and maybe a drizzle of extra virgin olive oil and you are set.
Try it tonight with this fast and easy recipe….
Ingredients
1 bunch broccoli rabe, stemed and trimmed
1/2  pound orecchiette pasta
2 tablespoons olive oil
1/2 pound turkey Italian-style sausage, casings removed
2 garlic cloves, minced
Pinch dried crushed red pepper flakes
Grated Parmesan to taste
Directions (yields 2-3 servings)

Heat the oil in a large skillet over medium heat.  Add the garlic and red pepper flakes, and saute until fragrant then add the sausage and cook, breaking it up into pieces with a spoon, until brown.
Meanwhile, cook the broccoli rabe in a pot of boiling salted water for a minute. Transfer the broccoli rabe into cold water to shock it and stop the cooking process, leaving it bright green. Save the cooking water and bring it back to boil and add pasta. Should take about 9 minutes to cook the orecchiette so it is al dente, strain.
Strain the broccoli rabe and add it to the pan with the sausage mixture and toss to coat; then add the pasta and stir in the cheese.