Union Square's Pasta Museum: Buitoni Ads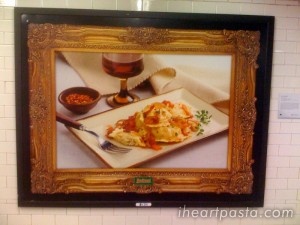 Introducing Buitoni's new ad campaign. I found it while exiting the Union Square station on the day I started this blog…it was kismet.
It is a series of Pasta dishes using Buitoni's fresh ravioli, tortellini and cannelloni varieties  framed in gold and hung on the subway walls with a descriptive plaque on the side detailing the dish, like in a museum. My choice is the wild mushroom stuffed ravioli with butter and sage (last photo). It's a classic, clean, simple and earthy combo.
Although found in your local grocery store, Buitoni isn't exactly highbrow pasta art but I found the campaign clever and effective. It's refreshing that something so comforting, traditional and hardy made a very prominent presence in one of the biggest subway hubs in NYC where tens of thousands of people hustle and bustle through each day. I hope it gives them the feeling to relax, unwind with some wine, friends and a good home cooked bowl of Pasta (any variety will do)
Ahhh, the art of pasta!
If you are tempted, check out their website where you can find a coupon on any of their products and even recipes…ENJOY!
http://www.buitoni.com/Pronto-Meals/Default.aspx?source=10084249